We are a professional electrical estimating company that offers long term and short-term electrical estimating solutions for electrical contractors around the nation. Whether you are looking for part-time, full-time, or more than one electrical estimator, we are always here to help you further your company's goals.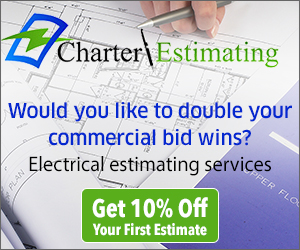 We have over 300 years of combined experience, and at the top in the electrical industry. We have successfully bid hundreds of electrical projects ranging in value from a few thousand dollars to over several million dollars. We have vast experience estimating commercial, institutional, civil, industrial, and residential projects in both the private sector and government markets.
Outsourcing electrical estimating is smart business and not something to take lightly. By using Charter Estimating, you can be assured you are hiring some of the best electrical estimators in the business today. Every one of our estimators is a senior estimator, has years of experience, and knows the business inside and out. We strive to be the best and to produce the most attractive, effective, bid-winning electrical estimates possible to put your company in the best possible position to win.
What You Can Expect From Us is You'll Get Everything You Need to Bid on a Project.
We offer a complete package for supplier quoted items such as lighting, switchgear, fire alarm, and generator.
We generate detailed RFIs for your use in case of any issues that may arise.
We provide a list of items needed when there is a need for site visits.
We give a detailed, comprehensive, competitive estimate that is easy to read and understand.
We provide a professional bid proposal with inclusions & exclusions.
Your Responsibilities Include:
Provide the project documents (plans) by mail, email, CD, or online availability.
Provide your labor rates, overhead & profit percentages (%) or we can calculate those for you.
Forward addenda, alternates, and relevant upstream data.
Forward RFI responses.
Forward selected "Quoted Material" prices from your suppliers.
Go to our online store and pick up your completed bid.
Submit completed bid to General Contractors.
Our Responsibilities Include:
Generate RFIs and forward them to you.
Provide a computer printout of material and labor by category.
Provide "Quoted Materials" lists for you to forward to your suppliers.
Provide you with a bid winning estimate that is easy to make necessary changes, and easy to read and understand.
Provide 24/7 support. We will always be available for you or your estimator when the time is critical or when it's bid day.
Provide a schedule of values.
Provide suggested inclusions and exclusions of scope of work.
Recommend appropriate value engineering to increase your award rate, and simultaneously increase your profit
If you choose for us to submit your bid, we will contact bidding GCs and submit the completed bid proposal to GCs using your company information.
How Our Estimating Services Work For Your Company
Choose Estimating Services Needed: You can choose from the different levels of estimating services that best fits your company's needs. Material and Labor Take-off for when your company wants to enter the numbers in to their own software, or Complete Estimating Service including submitting your proposal on your companies behalf and bid tracking. We also offer budgeting services for you when projects do not have complete drawings available.
Acquire Plans: Plans can be obtained in several ways. Charter will get them, the contractor will supply them or email, or a hard copy can be ordered. Verification of project information such as bid dates, whether the job is union, non-union, or open shop, etc.
Accurate Estimating: Once we receive the project, we read all the specs, plans and scope of work are reviewed. Company procedures at Charter have multiple cross checks and balances to minimize errors. Our on screen takeoff allows us to have better control over how we set up a project and reduce errors. We use your suppliers for all quoted material pricing and equipment.
Relationship Building: Obtaining a bidders list that includes all bidders is vital to winning a project. Provide us your "invites to bid" from a specific contractor. We will find the other contractors bidding the project and make sure your estimate gets into their hands. We offer these services so that your company is known to the General Contractors in your area.
Bid Closeout: Knowing how the numbers need to come together on bid day for a competitive estimate is just as important as an accurate take-off. Our numbers analysis will be performed and important information regarding the bid will be shared with you. Finally, any adjustment to the estimate is done and we work closely with you to finalize the bid before it is sent out.
Bid Tracking to get Results: Post bid follow up calls are made to confirm who won the bid, and what your placement was compared to other bidders, because bidding doesn't stop on bid day. We use the information to adjust numbers on the next bid when necessary. We do follow up calls on all of our estimates, as it is vital information to help bid-win ratios.
Contract Negotiation: Winning the project is great, but negotiating the terms of the contract is a crucial part of ensuring that you make a profit. This is a difficult issue for many estimators and companies. Before signing a contract, many electrical contractors have a qualified person review it. Some do that even before starting an estimate. Analyzing risky language during an estimate and putting in allowances for that language is a good way to prevent losses. Oftentimes, there can be requirements in a contract that make it impossible to profit from change orders.
Lien Form Usage: Knowing how to use your leverage when signing away your rights to apply liens can be costly. We provide some insight on that subject that will help you get your money before you sign a lien waiver.
Retainage: This is a portion of the agreed upon contract price deliberately withheld until the work is substantially complete to assure that the contractor or subcontractor will satisfy their obligations and complete a construction project. The retainage is always a sore subject when it comes to the end of the project. You and your workers have worked hard to put in a project on time and the General Contractor holds a percentage of your money. Learn how to negotiate a lower percentage on the front end so you can keep the money you worked hard for.
Avoid Costly Contract Clauses: Many of the contracts you will receive from the GC will have hold harmless clauses that cover the GC. Be sure to only accept the clauses you are able to maintain control over or are able to insure. Remember that every contract is negotiable, and don't be afraid to walk away from the project if it appears it may do your company harm.
Change Orders: We can provide you with change orders. We all love change orders, so why not get paid for them? Some contracts will have clauses that will prevent you from getting paid on change orders, especially those clauses that say "No changes or extra's allowed." Whenever there is an amendment, variation, or deviation to the original contract, a change order should be executed in writing to modify the original contract.
Collect Your Money: We offer essential estimating services to help your company not only survive in the construction industry, but to win in this industry. When you hire us to help you with your estimating needs, we take that very seriously and we offer not only the most accurate estimating services, but we help you grow your business! We have the best technology to aid us in computer generated estimates, along with the experience as electrical contractors to guide you through the process of acquiring the plans, bidding, close outs, managing the project start to finish, and collecting your money.
Bidders List: We will get a bidders list for your project so your bid goes to every contractor bidding the project. Even if your GC loses the project, you still have a shot at winning with another contractor.
---
Projects
Motels
Banks
Hospitals
Interiors
Parking Garages
Theatres
Hotels
Airports
Fire Stations
Custom Homes
Health Care Facilities
Multi-Family Housing
Transportation
Large Retailers
Universities
Tenants
Public Schools
Government Projects
High Rises
Solar
Restaurants
Offices
Auto Dealerships
Country Clubs
---
Get a Quick Quote For Your Next Construction Project
Using state-of-the-art estimating software, Charter Estimating generates quotes based on the blueprint of your project plan. We understand your project may be under a time crunch. If so, please send us your plan via email and we will provide an electrical estimate quickly.
No matter where you are building, our team is available to assist you in your time of need. We offer electrical estimates for electrical projects all over the United States. We can also provide the forms and services to launch your next project. Our team can handle the scheduling and billing details to ensure that everything stays on track to meet your deadlines.
We also protect your investments through change order tracking, cost tracking, and Request for Information (RFI) tracking.
---
Testimonials
---
Don't lose another job!
Contact us at paul@charterestimating.com, or simply provide your information in the form below.